News and Education
Better Rates! Better Service!
May 2014 Newsletter
2014-05-07
Buying a fixer upper? Protect yourself from "sink or swim" renovations!
So you're one of those buyers who absolutely loves older homes: the character, the unique architecture, the settled neighbourhood… and maybe the great value. But even older homes with "great bones" sometimes need a little renovation to turn them into the home of your dreams. Unfortunately, sometimes on top of the home purchase price, a few costly renovations can sink you.
Good news. We've got a mortgage to keep you happily afloat.
We can bundle the cost of those immediate renovations right into the mortgage: so instead of sky-high credit card and line of credit bills… you've got your mortgage and renovations looked after in one easy monthly payment.
It's called a "purchase plus improvements" mortgage. It covers the sale price of the home, plus any renovations that would increase the value of the property, up to $40,000. You also get pre-payment privileges – so you can pay off your renovation faster.
We can take you through the process, so your mortgage and renovations go… swimmingly.
Watch out for the collateral charge mortgage.
It sounds like a good idea… and sometimes it is. A "collateral charge mortgage" is offered by several Canadian banks. Here's how it works: the bank registers the mortgage for more than the value of the home at closing. The benefit: it can be easier to tap into your equity later. However, it also has the effect of, well, locking you in to the lender.
We're not always big fans of the collateral charge mortgage – because we're all about keeping your options open. Collateral charge mortgages are very difficult to transfer to another lender. So you might see a great rate or mortgage feature at another lender… but it'll cost you; generally, you would need to start from the beginning and pay new legal fees.
The reason so many Canadians are choosing independent mortgage brokers is for choice and expertise. We don't believe that lenders should tie the hands of homebuyers. Not sure what your lender has offered you, or want a second opinion? Give us a call. Maybe you've got a good deal. Or maybe knot!
How much home could you buy with your rent money?
Most Canadians paying rent are doing so because they don't think they can afford a home… yet. And many would be surprised at how much home they could buy with their rent money. Keep in mind that home ownership involves costs beyond the monthly mortgage payment like utility bills, insurance, and property taxes. We can help you determine what you can comfortably afford.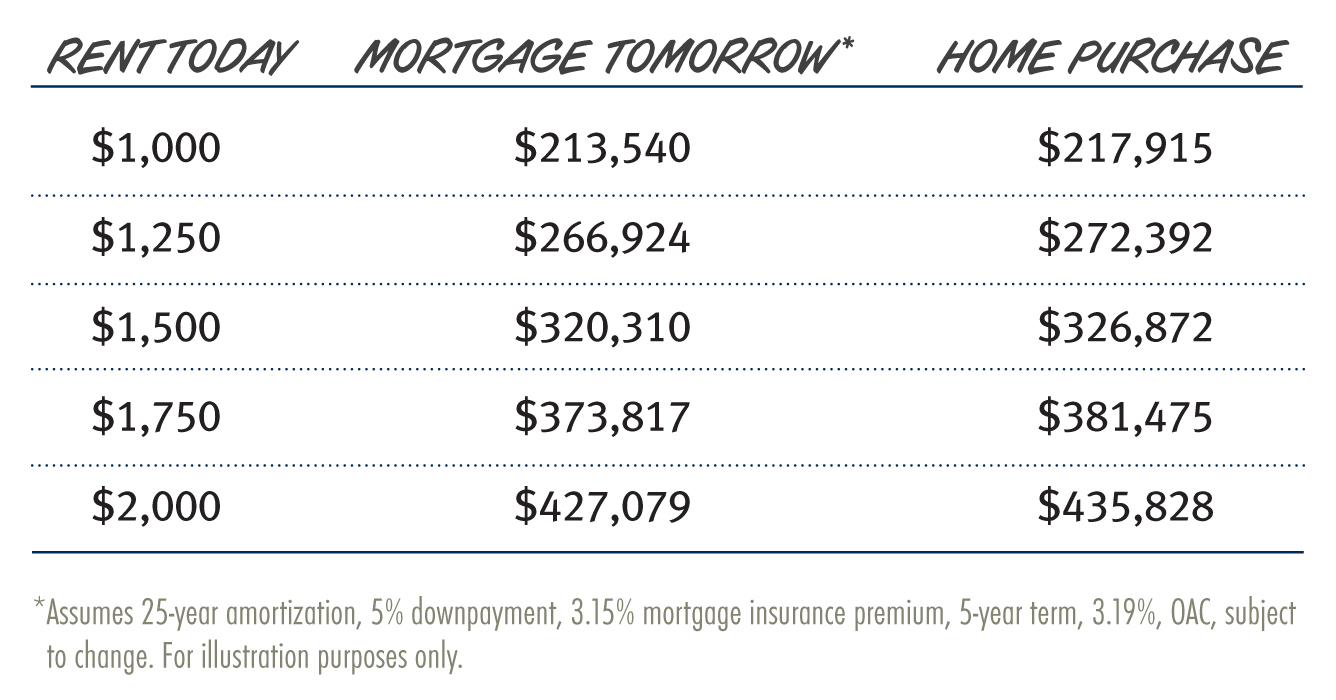 Source: Invis and Mortgage Intelligence

Back to Main News Page