News and Education
Better Rates! Better Service!
Sunny Days! We Expect a Great Spring Market
2016-04-06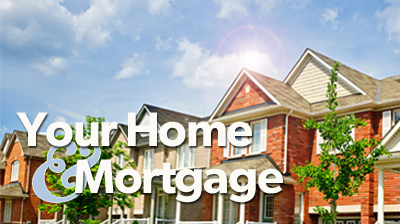 It's true the uncertainty in the economy is making some Canadians anxious about their financial security. But the current environment is also creating opportunities, given that we expect another year of record-low mortgage rates. Don't let fear drive your decision making, focus instead on your current situation and your long term goals. Here are some tips to help you get the most out of your spring market opportunities -
Be realistic and prepared. A mortgage pre-approval will let you know how much home you can afford. There is no fudging the numbers or wishful thinking so be sure to provide accurate information. Your mortgage approval will ultimately be based on the documentation you provide to verify your downpayment and income. Assembling everything your lender needs is a critical component of mortgage success and doing this early in the process will put you in a good position to take advantage of opportunities.
Go one step further. Do a budget that includes your new mortgage payment and all of your life expenses. You will want a mortgage that lets you live comfortably.
Be confident. Become a homeowner when you are financially and emotionally ready, without worrying about trying to time the market. Always remember that residential real estate has proven to be an excellent long-term investment.
Three cheers for the home team! It's not just a roof; it's your financial future. As your mortgage broker, I can anchor a strong team; you'll also need a realtor, a lawyer and a home inspector you can trust.
Carefully planned for, your home and mortgage can provide financial security and the opportunity to build real long-term wealth.
Love that low loonie: your U.S. home is a piggy bank in 2016
There's a silver lining to the low loonie this year if you happen to own a home south of the border. A few years ago, a wave of smart Canadians took advantage of a strong loonie and low U.S. home prices – and picked up some American real estate. This year, those homes are as good as a piggy bank now that the loonie has dropped.
Why? If you refinance your U.S. home, you can bring those U.S. dollars back to Canada at the current exchange rate. That powerful U.S. dollar is your financial friend, and we don't know how long it will last. You could use the money to pay off any debts in Canada – or even use the proceeds to purchase another Canadian property. The goal is to get those U.S. dollars back over the border to Canada.
By the way, selling the home triggers capital gains. Refinancing does not. Any income you generate by exchanging your dollars doesn't count as capital gains, so you don't pay tax when you exchange your US dollars for Canadian dollars. You also get to keep your vacation property.
Many Canadian owners of U.S. homes rent out the property when they're not using it – giving them rental income to maintain the home and pay down the mortgage.
Most property values have rebounded well from their lows; so many owners are also taking advantage of the growth in their U.S. home equity. A U.S. bank will typically lend 60% of the appraised value of a property.
If you own a home in the U.S., let's chat. We have an excellent relationship with a U.S. lender that is licensed in Florida, Massachusetts, Michigan and soon California. You may be able to give your wealth-building a boost!
Source: Invis and Mortgage Intelligence

Back to Main News Page